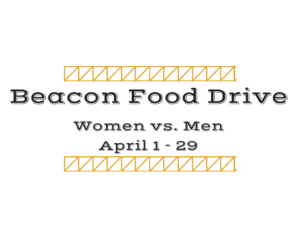 Beacon Food Drive
Bring in non-perishable items to the church each week during the month of April. Stock up your side of the aisle, men vs. women style! Which one will bring in the most food?
---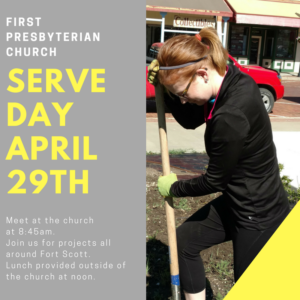 Serve Day – April 29, 8:45am
We will worship outside the sanctuary this Sunday by serving our neighborhood. Join us as we work on projects in the neighborhood surrounding the church. Bring some gloves and serve with us! Lunch will be provided at the church at noon.
---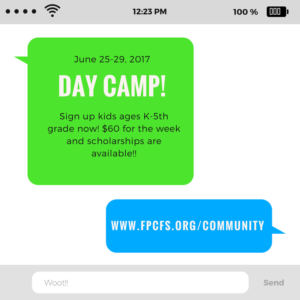 Day Camp – June 25-29, 2018
This year, Traveling Day Camp is coming to First Presbyterian Fort Scott during the week of June 25-29! We are offering this exciting program in partnership with Heartland Camp. All children who have completed K-5 can enjoy this week long, full day camp held right here at our church. For more information and to sign up, click here.
---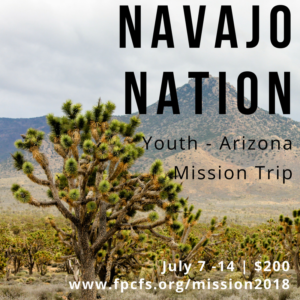 Youth Mission Trip – July 7-14, 2018
All current 6th-12th graders are invited to join us as we travel to northern Arizona for a week of service. We are working with YouthWorks and will join up with about 50 other young people from around the U.S. working together on projects with local ministries. Several fundraisers are planned during the spring to cut down on the cost of the trip. A $50 deposit is due by April 29. For more information and to sign up, click here.
---
Spiritual Direction at FPC
Are you interested in Spiritual Direction? Or finding out what that even means? Click here for more information and how to get involved.
---
Faith Formation – Winter/Spring 2018
We offer three "tracks" for growing, connecting, and learning:
1.    Bible study and discussion in the Library
2.    A Rotation Track of Short Courses:
Jan – "Mindfulness, Meditation, and Musings: How to Tame a Runaway Mind"
Feb – Mar – "Life According to Parks and Rec."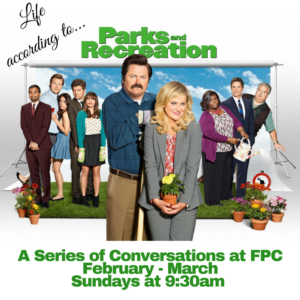 April – May – "Confessions of a Funeral Director" – Book Club with Alesha Martin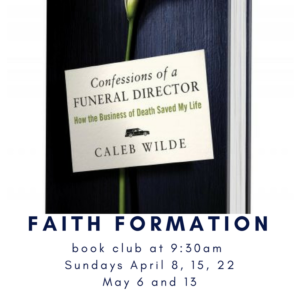 3.    *How to Play Bridge  – Downstairs Classroom (there are tables for veterans and beginners and everyone in between!). *Note: Bridge starts at 9 am.
4.   Children and Students
Jan. – Jonah
Feb. – Paul's Travels
Mar. – Ruth
April – Lost Things
---
Calendar
April

2018

Sun
Mon
Tue
Wed
Thu
Fri
Sat

1

Beacon Food Drive

Flowering of the Cross

Church Service with Communion

Easter Cantata "The Messiah"

• • • •

2

Beacon Food Drive

HS Lunch

• •

4

Beacon Food Drive

Staff meeting

Rotary Lunch

Choir Practice

HS Youth Group

• • • • •

8

Beacon Food Drive

New Adult Faith Formation begins

Breakfast Church - Zimmerman Hall

Deacons Meet after church

MS Youth Group

• • • • •

9

Beacon Food Drive

HS Lunch

Handbell practice

• • •

11

Beacon Food Drive

Staff meeting

Rotary Lunch

K-5th grade to Fort Cinema $5

Choir Practice

HS Youth Group

• • • • • •

13

Beacon Food Drive

Theology on Tap

• •

15

Beacon Food Drive

Church Service

HS Youth to Royals game

• • •

16

Beacon Food Drive

HS Lunch

Handbell practice

• • •

18

Beacon Food Drive

Staff meeting

Rotary Lunch

Choir Practice

• • • •

19

Beacon Food Drive

Presbyterian Women meet

Women's Study Group

Session meets

• • • •

22

Beacon Food Drive

Blood pressure check after the service

Church Service

• • •

23

Beacon Food Drive

HS Lunch

Handbell practice

• • •

25

Beacon Food Drive

Staff meeting

Rotary Lunch

Choir Practice

• • • •

28

Beacon Food Drive

Art Festival - Zimmerman Hall

• •

29

Beacon Food Drive

Sunday Serve day - lunch follows

MS Youth Group

• • •

30

HS Lunch

Handbell practice

• •