Download the First Presbyterian Church Fall 2018 Youth Calendar to keep up with all the fun events for middle and high school students!
---

Wholeness: Living with Life's Lows – Sept-Oct Series
This series will explore how we can integrate our life "lows" into a larger life of faith in Jesus Christ.  What is it about Christian faith that can help us find wholeness, balance, and integration – so that our "lows" do not feel like separate pieces of life?  The series will offer hope and encouragement to those of us dealing with stress and anxiety, depression, anger, and grief.  God's love is good news both for those dealing with serious mental illness and for those who care for them.
---

Breakfast Tailgate – Sundays at 9:30am
Young adults are invited to bring a lawn chair for our 2nd annual "Breakfast Tailgate" and discussion in the parking lot.
Some of the topics we'll explore this Fall include . . .
Is there really a "happiness dip" that occurs from 35-45 years of age?
What brings you alive – and how can you get more of that in your life?
Are there any parts of your life you feel like you've left behind?  Is it too late to reclaim them?
What do you do to keep yourself healthy – physically, emotionally, spiritually?
What makes it hard for you to stay healthy?
Fun facts about anxiety, stress, depression, anger, and grief.
Do you ever worry that there are "unlived" parts of your life?  What can we do about that?
---

Bring a Friend – Sunday, September 23, 10:30am
Invite a friend, neighbor, family member, or stranger to join us on Sunday, September 23. Visitors will be treated to a plethora of gifts, also known as a "swag bag".
---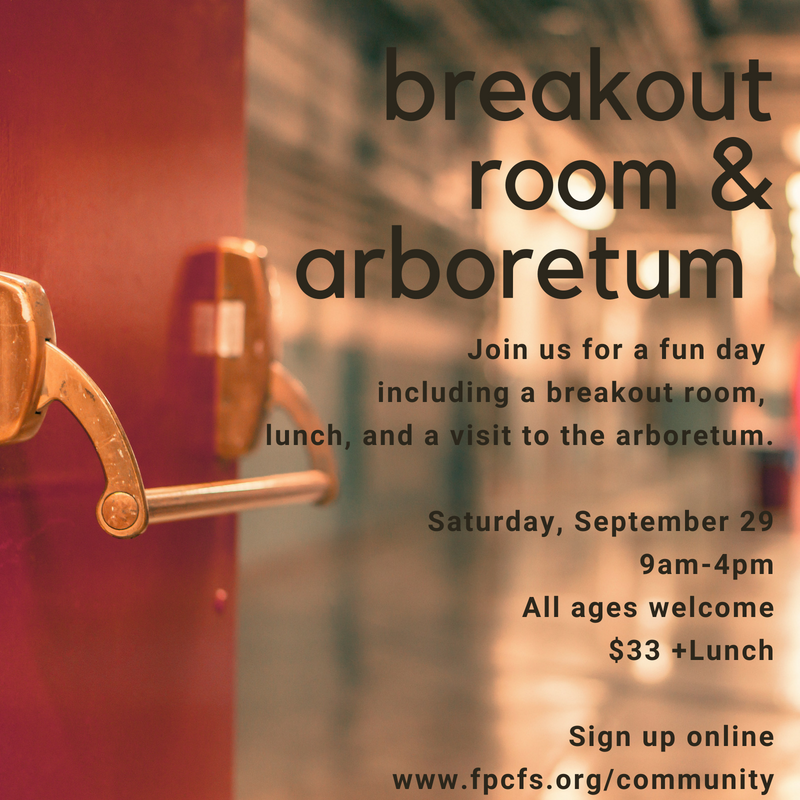 Breakout Room and Arboretum Visit – Sat. Sept. 29, 9am-4pm
On Saturday, September 29, we are heading to Breakout KC in Leawood. We've reserved two Breakout Rooms to test our teamwork, ingenuity, and level of awesome-ness. Afterwards, we will enjoy lunch and a visit to the Arboretum. Sign up online or at the church. The cost is $33 for the Breakout Room and Arboretum. Bring additional money for lunch.
---
Spiritual Direction at FPC
Are you interested in Spiritual Direction? Or finding out what that even means? Click here for more information and how to get involved.
---
Faith Formation – Fall 2018
Faith Formation classes are offered Sept-May each year during the 9:30am hour on Sundays. Check back to see what classes will be offered this fall. In the meantime, feel free to join the "How to Play Bridge" group that will continue to meet throughout the summer.
*How to Play Bridge  – Downstairs Classroom (there are tables for veterans and beginners and everyone in between!). *Note: Bridge starts at 9 am.
---
Calendar
September

2018

Sun
Mon
Tue
Wed
Thu
Fri
Sat

5

Staff meeting

Rotary Lunch

Choir practice

• • •

9

Faith Formation

Church Service - FALL KICKOFF!

Pasta lunch follows the service

• • •

10

Beacon Food competition

HS lunch

Handbell Practice

• • •

12

Beacon Food competition

Staff meeting

Rotary Lunch

Choir practice

HS Youth Group

• • • • •

14

Beacon Food competition

Theology on Tap

• •

16

Beacon Food competition

Faith Formation

Church Service - Deacon offering

MS Youth Group

• • • •

17

Beacon Food competition

HS lunch

• •

19

Beacon Food competition

Staff meeting

Rotary Lunch

Choir practice

• • • •

20

Beacon Food competition

PW meets

Women's Study Group

Session meets

• • • •

21

Beacon Food competition

MS/HS Tiger Football pre-game party

Girl Scout meeting

• • •

23

Beacon Food competition

Faith Formation

Bring A Friend to Church

MS Youth Group

• • • •

24

Beacon Food competition

HS lunch

• •

25

Beacon Food competition

Coffee with friends

• •

26

Beacon Food competition

Staff meeting

Rotary Lunch

Drinks with friends

Choir practice

• • • • •

28

Beacon Food competition

MS & HS Tiger Football pre-game party

• •

29

Beacon Food competition

KC Outing $33 per person

• •

30

Beacon Food competition

Faith Formation

Church Service

MS Youth Group

• • • •