Lenten Projects – 2018
We invite the community to observe the holy season of Lent by repenting of our "refusal to keep growing." We are imagining groups of people taking up projects together that aim at growing, connecting, and learning. Check social media, our website, and the church bulletin board to find a group or start one of your own.
Lenten Project ideas include:
4×4 Groups
Choir
Be a Youth Leader for Lent
Wes Anderson Movie Mondays (WAMM)
Faith Formation

Bridge
Lectionary Study
Life According to Parks and Rec.

Service Project
Couch to 5K
Mentoring at the High School
For more information or to set up a project, contact Laura.
---
Spiritual Direction at FPC
Are you interested in Spiritual Direction? Or finding out what that even means? Click here for more information and how to get involved.
---
Faith Formation – Winter/Spring 2018
We offer three "tracks" for growing, connecting, and learning:
1.    Bible study and discussion in the Library
2.    A Rotation Track of Short Courses:
Jan – "Mindfulness, Meditation, and Musings: How to Tame a Runaway Mind"
Feb – Mar – "Life According to Parks and Rec."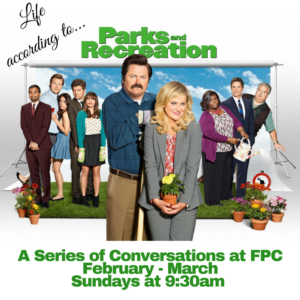 3.    *How to Play Bridge  – Downstairs Classroom (there are tables for veterans and beginners and everyone in between!). *Note: Bridge starts at 9 am.
4.   Children and Students
Jan. – Jonah
Feb. – Paul's Travels
Mar. – Ruth
April – Lost Things
---
Calendar
February

2018

Sun
Mon
Tue
Wed
Thu
Fri
Sat

2

MS Winter Retreat @ Westminster Woods

•

3

MS Winter Retreat @ Westminster Woods

•

4

Church Service

Deacons Meet after church

Souper Bown of Caring Fundraiser

MS Winter Retreat @ Westminster Woods

• • • •

5

Love Lounge Open

HS Lunch

Handbell practice

• • •

7

Love Lounge Open

Staff meeting

Rotary Lunch

HS Youth Group

Choir Practice

• • • • •

9

Love Lounge Open

Theology on Tap

• •

10

Love Lounge Open

Leadership Retreat/Session meeting starts at 11:30

• •

11

Love Lounge Open

Church Service - Communion

PW potluck luncheon

MS Youth Group

• • • •

12

Love Lounge Open

HS Lunch

Handbell practice

• • •

14

Love Lounge Open

Staff meeting

Rotary Lunch

Ash Wednesday Service

Choir Practice

HS Youth Group to Papa Don's

• • • • • •

15

Presbyterian Women meet

Women's Study Group

• •

18

Church Service - Deacon Offering

Confirmation class with lunch

Deacons lead Nursing Home Service

• • •

21

Staff meeting

Rotary Lunch

HS Youth Group

Choir Practice

• • • •

24

FPC hosts Presbytery meeting

•

25

Church Service

Confirmation class with lunch

MS Youth Group

• • •

26

HS Lunch

Handbell practice

• •

28

Staff meeting

Rotary Lunch

HS Youth Group

Choir Practice

• • • •