Download the First Presbyterian Church Summer 2018 Calendar to keep up with all the fun events for children, youth, and adults this summer!
---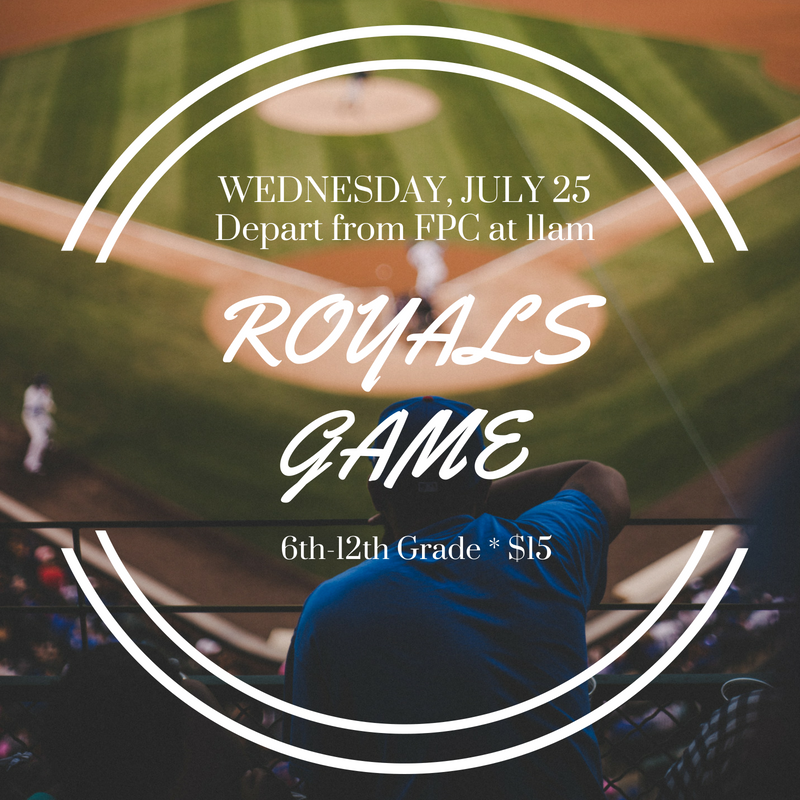 Royals Game – Wednesday, July 25
All youth (6th-12th grade) are invited to the Royals Game on Wednesday, July 25. We will meet at the church at 11am and be back around 7pm. The cost is $15 which includes a ticket and transportation. Bring extra money for snacks at the ballpark. Sign up here or text Laura.
---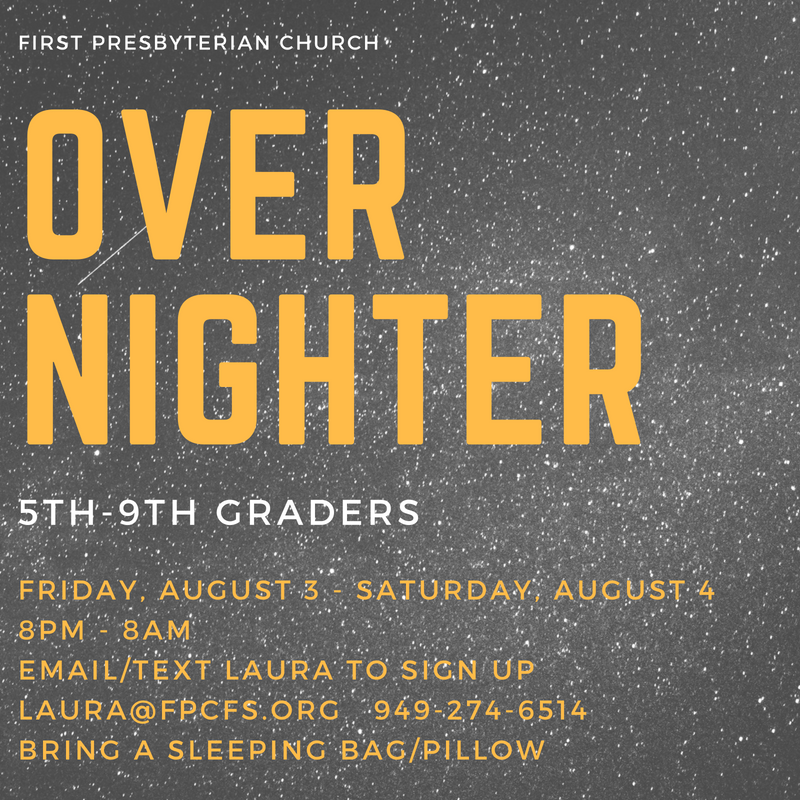 Middle school overnighter – 8pm August 3 – 8am August 4
Who doesn't love playing flashlight tag in the middle of the night at the church?? Come hang out for 12 solid hours, running around, playing games, eating junk food, and watching movies. Invite your friends and text Laura to sign up. No cost and remember to bring a sleeping bag and pillow.
---
Spiritual Direction at FPC
Are you interested in Spiritual Direction? Or finding out what that even means? Click here for more information and how to get involved.
---
Faith Formation – Fall 2018
Faith Formation classes are offered Sept-May each year during the 9:30am hour on Sundays. Check back to see what classes will be offered this fall. In the meantime, feel free to join the "How to Play Bridge" group that will continue to meet throughout the summer.
*How to Play Bridge  – Downstairs Classroom (there are tables for veterans and beginners and everyone in between!). *Note: Bridge starts at 9 am.
---
Calendar
July

2018

Sun
Mon
Tue
Wed
Thu
Fri
Sat

1

Church Service - Day Camp Celebration

Deacons Meet after church

• •

7

Youth depart for Mission Trip 10 am

•

8

Mission Trip 6 -12 gr. to Navaho Nation

Church Service

• •

9

Mission Trip 6 -12 gr. to Navaho Nation

•

10

Mission Trip 6 -12 gr. to Navaho Nation

•

11

Mission Trip 6 -12 gr. to Navaho Nation

Staff meeting

Rotary Lunch

• • •

12

Mission Trip 6 -12 gr. to Navaho Nation

•

13

Mission Trip 6 -12 gr. to Navaho Nation

Theology on Tap

• •

14

Youth return from Mission Trip

•

15

Church Service - Communion

•

18

Staff meeting

Rotary Lunch

Movie Night @ FPC for grade 6-12

• • •

19

Session does not meet in July

•

20

Bible Study for grade 6-12

K-5th grade to Fort Cinema, $5

• •

22

Church Service

Lunch at Papa Don's with Deacons

Deacons Lead Nursing Home Services

• • •

25

Staff meeting

Royals Game for grade 6-12 $15

Rotary Lunch

• • •

27

Lunch at Laura's & pool for 3-12th Grade $3

•

29

Trail Walk @ Gunn Park meet at Shelter #5

Brunch @ Gunn Park

Church Service @ Gunn Park

• • •