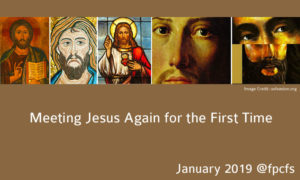 January 6, 2019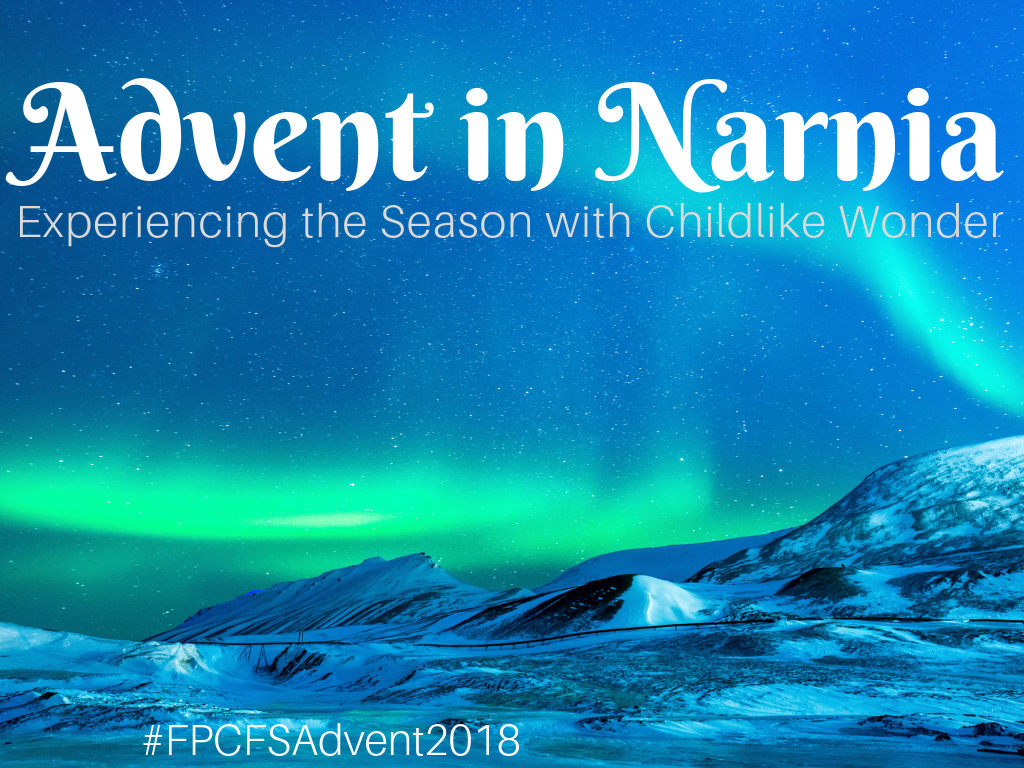 December 16, 2018
December 9, 2018
December 2, 2018
The Doorway Into Wonder – Jared Witt
---
November 25, 2018
The Final, Last Supper That Never Ends – Jared Witt
November 18, 2018
Faithful Gratefulness – Laura Agee
November 11, 2018
Infectious Gratitude/Contagious Generosity – Jared Witt
November 4, 2018
Praise the Lord, O My Soul – Jared Witt
October 28, 2018
More Than a Feeling – Laura Agee
October 21, 2018
---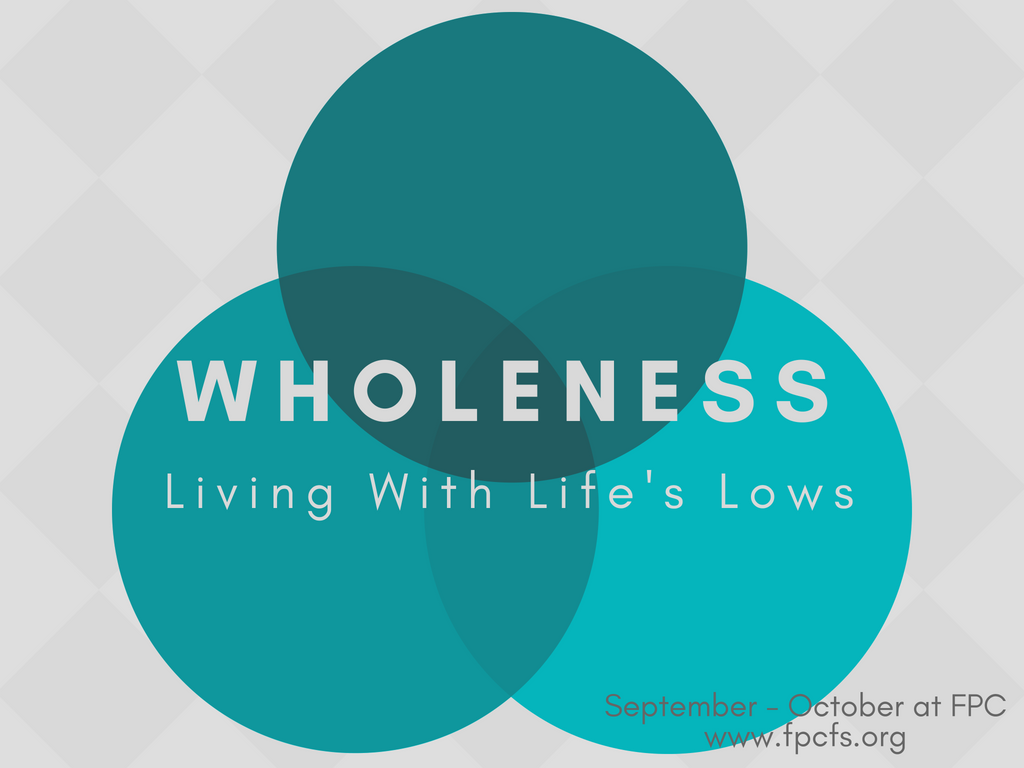 October 7, 2018
Wholeness: Dealing with Grief – Jared Witt
September 30, 2018
Wholeness: Dealing with Anger – Jared Witt
September 23, 2018
Wholeness: Dealing With Depression – Jared Witt
September 16, 2018
Wholeness: Dealing with Stress and Anxiety – Jared Witt
September 9, 2018
The Call to Wholeness – Jared Witt
---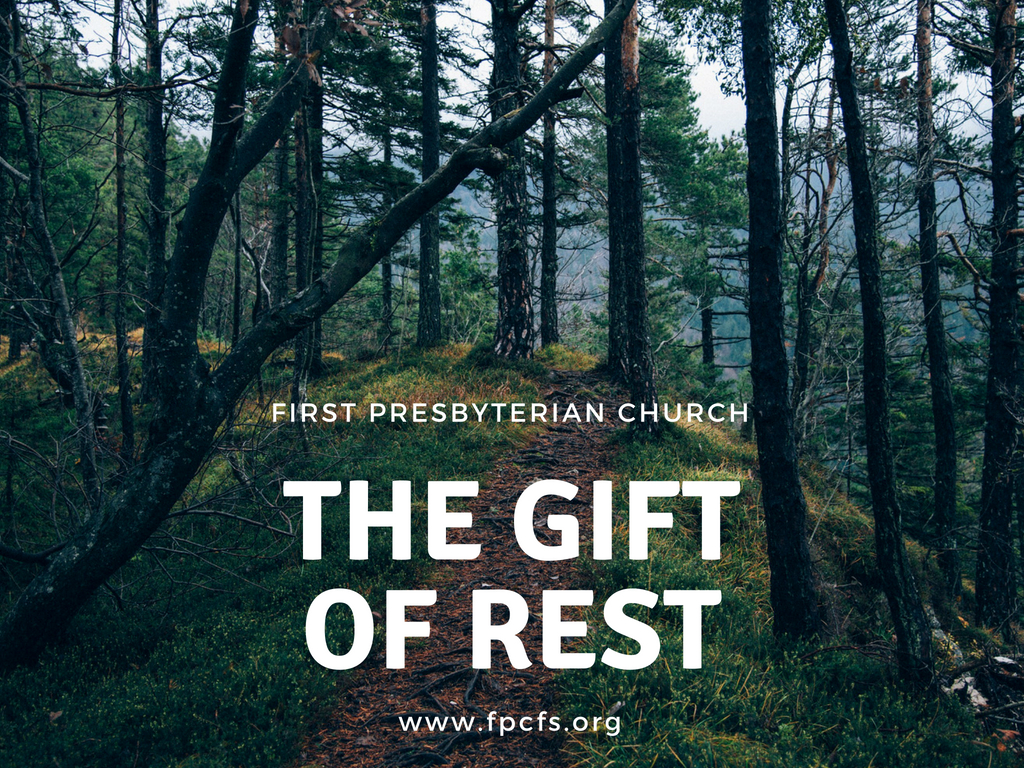 September 2, 2018
---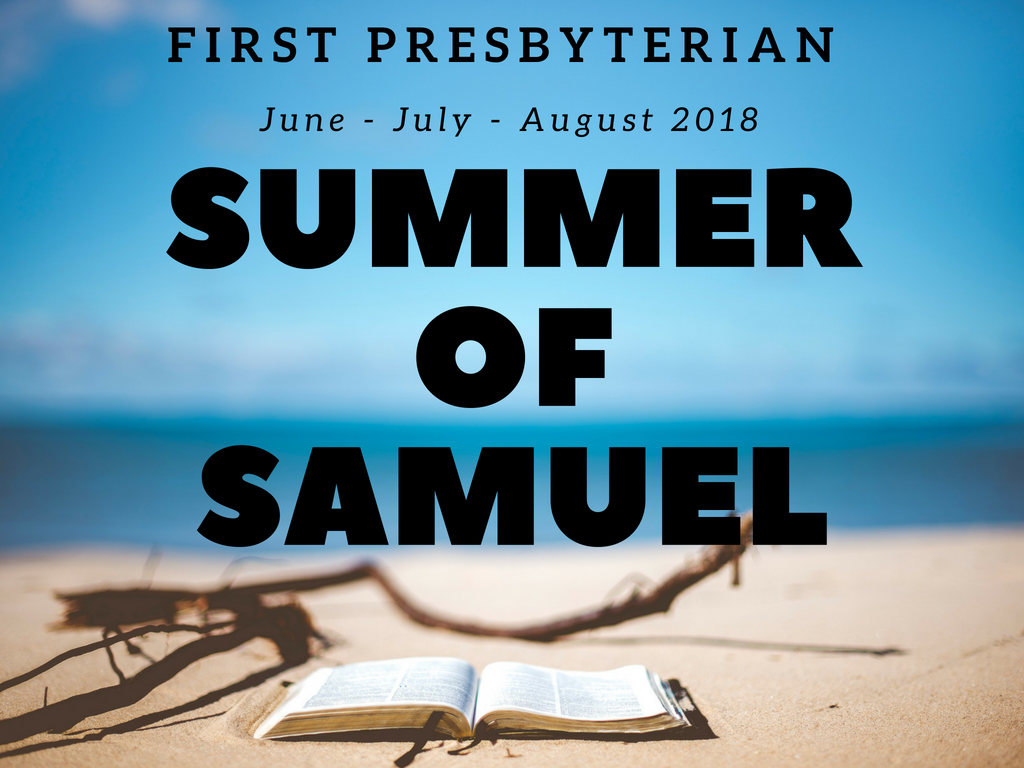 August 19, 2018
Ask For Whatever You Want – Jared Witt
AUGUST 12, 2018
Hanging Between Heaven and Earth – Jared Witt
August 5, 2018
The High Cost of What We Do in Secret – Jared Witt
July 29, 2018
Reflections on Men, Women, Shame & Desire – Jared Witt
July 22, 2018
July 15, 2018
David, Dancing, and Despised – Jared Witt
July 8, 2018
Permission to Dream – Jared Witt
June 17, 2018
All of us Leading and Following – Jared Witt
June 10, 2018
The Grass Isn't Always Greener – Laura Agee
June 3, 2018
Listening for God in a Noisy Life – Jared Witt
---

May 27, 2018
May 20, 2018
Surviving Adolescence – Jared Witt
May 13, 2018
May 6, 2018
---

April 15, 2018
Ghosts, Flesh, & Fish – Jared Witt
April 21, 2018
Banquets Without Borders – Jared Witt
---

April 1, 2018
March 25, 2018
The Lord Needs It – Jared Witt
March 18, 2018
The Covenant of Belonging – Diana Morriss
March 11, 2018
Traveling and Telling Stories – Jared Witt
March 4, 2018
Covenant: Enjoying Life Together – Laura Agee
February 25, 2018
Covenant: Adventures into the Uncomfortable Unknown – Jared Witt
---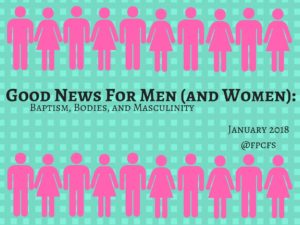 February 18, 2018
Imaging the Image – Jared Witt
February 4, 2018
Baptized Bodies in Training – Jared Witt
January 28, 2018
The Ethics of Eating – Jared Witt
january 21, 2018
Baptism: The End of the Quest for Perfection – Jared Witt
January 14, 2018
Honoring God With Our Bodies – Jared Witt
January 7, 2018
Baptism, Bodies, and Masculinity – Jared Witt
---
December 31, 2017
The Word Became Flesh…Now What? – Jared Witt
---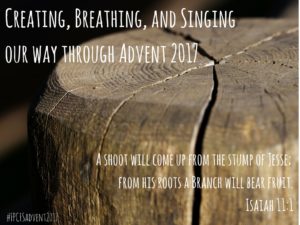 December 24, 2017
Is Your Christmas The Right Size? – Jared Witt
December 10, 2017
Holy Fire, Ordinary Mystics – Jared Witt
December 3, 2017
---

November 26, 2017
Avoiding Dead Ends: Indifference – Jared Witt
November 19, 2017
Avoiding Dead Ends: Sloth – Jane Campbell
November 12, 2017
Avoiding Dead Ends: Distractions – Jared Witt
November 5, 2017
Avoiding Dead Ends: Hypocrisy – Laura Agee
---

October 1, 2017
The Blessing of Our Mistakes – Jared Witt
October 8, 2017
Get Going or Get Out of the Way – Jared Witt
October 15, 2017
How to Behave at a Party – Laura Agee
October 22, 2017
Living with Ambiguity – Jared Witt
October 29, 2017
Love God and Do As You Please – Jared Witt
---

September 10, 2017
How to Deal with Conflict – Jared Witt
September 17, 2017
September 24, 2017
How to Avoid Comparing Yourself to Others – Jared Witt
---
September 3, 2017
Follow The Leader – Jared Witt
---
August 27, 2017
Who Do You Say I Am? – Jared Witt
---
August 20, 2017
In Praise of Tenacity – Jared Witt
---
August 13, 2017
You of Little Faith – Jared Witt
---
Summer 2017
Charles and Melissa Johnson – July 30, 2017
What Do PCUSA Mission Workers in Zambia DO?

Ezekiel Series (July 2017) – Laura Agee
Who's To Judge?
Hope For All
Worship Renewed
Day Camp Celebration and Stories – July 2, 2017
John Calvin Living Waters For the World – June 25, 2017
Bill Pollock, Craig Campbell, and Leah Lewis – June 18, 2017
John Hill – June 11, 2017
The History and Architecture of the First Presbyterian Church of Fort Scott
Jane Campbell – June 4, 2017
The Holy Spirit: The Great Translator
---
May 14, 2017
Sabbatical Preview and You've Come A Long Way, Baby – Jared Witt
---
May 7, 2017
What is a Sabbatical? – Jared Witt
---
Bring a Friend Sunday – April 30, 2017
---
April 23, 2017
Why (and How) We Invite Our Friends – Jared Witt
---
Easter sunday – April 16, 2017
Cynicism, Sentimentality, Hope – Jared Witt
---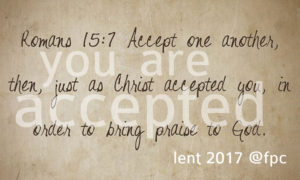 You Are Accepted – Lent 2017
The season of Lent is a sober time of preparation before the riotous joy of Easter. It's a time to ask ourselves hard questions about areas of our lives where we need renewal or a fresh start. Our Scripture readings on Sundays during Lent invite us to accompany Jesus as he travels toward his own great suffering. At times even we ourselves might be surprised that we are following the crucified Jesus, carrying our own crosses in his shadow. But we do so because we have been accepted by God.
God meets us where we are and accepts us as we are. Of course, God doesn't leave us there. God's gracious and welcoming acceptance of us deepens over time and takes on different colors through our lives. Like the copper on our building, our baptisms attain a beautiful, weathered patina with age.
Some of us need to turn a new leaf. Some of us need to find strength in our weariness. Some of us need to repent of unhealthy habits. Some of us need a reminder that there is joy in the journey. Some of us are scattered and need the ability to focus. All these opportunity for renewal are standard goals for the Lenten season. And they have been for people of faith for thousands of years.
So what will your Lenten season look like? How can you take advantage of this sacred window of time to reconnect with God and with others? I want to invite you to make our gathered worship a priority for yourself and your family. If this is your church home, the community in which you live out your gratitude for God's blessings, then you will need to rearrange your life so that weekly worship is a clear value and priority.
But What About My Desires? – Jared Witt
But What About My Doubt? – Jared Witt
But What About My Shame? – Laura Agee
But What About My Disabilities? – Jared Witt
But What About My Sickness? – Jared Witt
---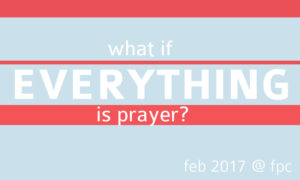 What if Everything Is Prayer? – February 2017
"Pray all the time." (I Thessalonians 5:17)
"Love the Lord your God with all your passion and prayer and intelligence." (Matthew 22:37).
These two passages of Scripture – here translated in the fresh language of Eugene Peterson's The Message – will provide the foundation for our February sermon series.
We're asking you to entertain a provocative, challenging, and potentially life-changing question: "What if EVERYTHING is prayer?" What if your whole life is a kind of prayer? What if everything you do all day is a kind of praying (including sleeping)? What if you can gather up all the different parts of your life and offer them to God? What if all the different things we feel – joy, depression, pleasure, sadness, affection, frustration – what if all of that can become a prayer?
The goal of the sermon series is simple. We want to become people who "pray all the time." And this means that we will have to get rid of the assumption that prayer is a quiet mumbling towards God. Most of us don't feel very good at that kind of praying. Moreover, you can't do that "all the time." But what if dancing, walking, and playing sports are prayer? What if singing, humming, listening to music and playing an instrument is prayer? What if drawing, painting, and building things is prayer? What if your body and imagination are just as important as your mind? Who knows what kinds of praying will open up to us on the other side of this question?
Can We Really Pray All The Time? – Jared Witt
What's the Point of Praying? – Jared Witt
What if Everything is Silent? – Laura Agee
---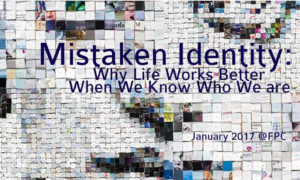 Mistaken Identity: Why Life Works Better When We Know Who We Are – January 2017
We begin this new year with a call to discover anew who we really are. Much of the time, we walk through life with a distorted view of who we are. We might struggle with pride and selfishness (call this "too much self"). We might struggle with cowardice and passivity (call this "too little self").
Join us as we help each other sort out and sift through the possibilities that lay in front of us. Our Scripture readings offer a renewed vision of who we are. I am powerful. I am chosen. I am free. I am responsible. Life works better when I know who I am.
I Am Powerful – Stephanie Witt speaking for Jared Witt
I Am Chosen – Jared Witt
I Am Free – Jared Witt
I Am Responsible – Jared Witt
---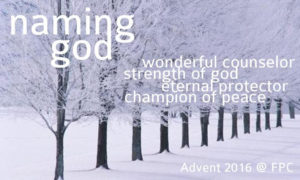 Naming God – Advent 2016
Wonderful Counselor – Jared Witt
Strength of God – Jared Witt
Christmas Cantata
Champion of Peace – Jared Witt
---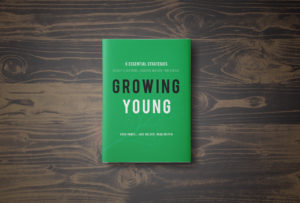 November 20, 2016
---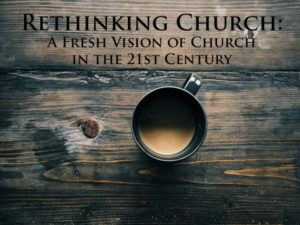 Rethinking Church: A Fresh Vision of Church in the 21st Century – October/November 2016
1001 New Worshiping Communities – Jared Witt
The Church and New Expressions of Spirituality – Jared Witt
How We Gather – Jared Witt
---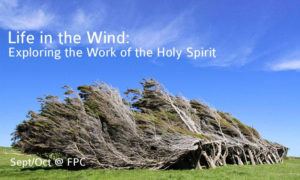 Life in the Wind: Exploring the Work of the Holy Spirit – September/October 2016
The Spirit of Freedom – Jared Witt
The Spirit, The Bond of Love – Jared Witt
The Spirit of the Future – Laura Agee
The Spirit's Gifts – Jared Witt